Melbourne-based artist Sally Ross is renowned for her exquisite landscape portraits, exploring the beauty of the natural world in each of her pieces. We caught up with Sally to discuss Chemin (path), one of her exceptional paintings which hangs in the lobby of George + Powlett.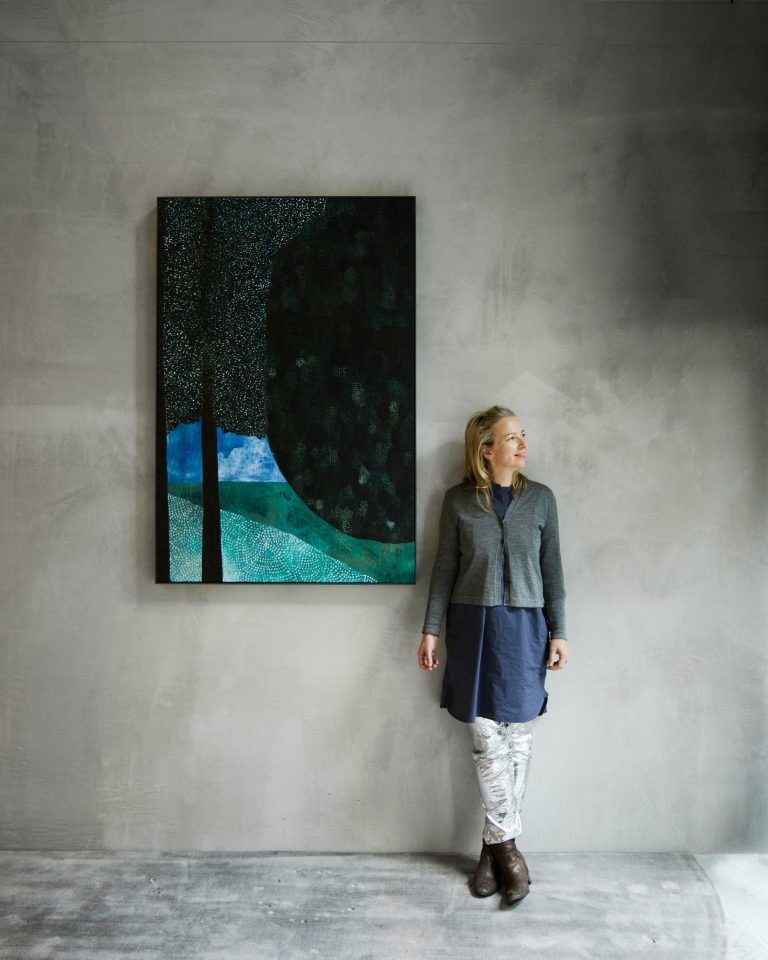 What was the inspiration behind Chemin (path)? What role does art play in the home?
In Chemin (path) the landscape teeters between blue skies and the dense, incessantly dotted areas of foliage that become almost abstract, a window to elsewhere. I was inspired by the green beauty and endless variations of shape and colour found in nature.
A painting can provide a perfect presence in your home, giving life to any interior space. Unlike the images we endlessly look at on our screens, a painting is present, you can become incredibly attached to the art you live with.
Natural light is central to the design of George + Powlett. Why is light such an important consideration for artists and designers?
​Natural light, a sense of space, as well as good proportions brings an incredible quality of life. I love working with architects and designers who get this right. A well-placed artwork co-exists and sings when it's in its element.
It is a complementary co-existence. More residential projects should think about the way every detail, every element works together, integrating art into the design throughout the process.
How will Chemin (path) complement the unique aesthetics of George + Powlett's interior design?
I am excited at how Chemin (path) complements the pared back concrete, natural light and landscaping of George + Powlett. The painting also accentuates the strong vertical space of the entry. It does wonders for the space and it likes being there.
As both a Melburnian and an artist, why do you think we have a strong focus on understated design?
I think contemporary architecture and interior design in Melbourne can be very conspicuous, trendy and date very quickly. But George + Powlett is strong and fresh without being attention-seeking.